ECOPHYSE & HAPPYLOOP WORK IN WASTE MANAGEMENT
If ECOPHYSE works daily to give a second life to our waste, becoming "société à mission" allows it to make it known, to explain its societal utility and to continue to respond to the environmental, social and innovation issues intimately linked to its activity.
Thanks to this innovative approach, ECOPHYSE structures, enhances its commitments and its impact, without red tape. Thus, it integrates its CSR (Corporate Social Responsibility) commitments into its overall strategy, unites its team around a common ambition, affirms its vision with its stakeholders (customers, partners, suppliers, employees, territory, environment, …), creates more value for its territory thanks to innovation and participates in laying the first milestones of a "territory with a mission"!
In this perspective, the mission allows to freely determine its objectives and its business plan to meet them. It also perpetuates its role as a committed company by including its vision in its statutes, which gives lasting meaning to its activity.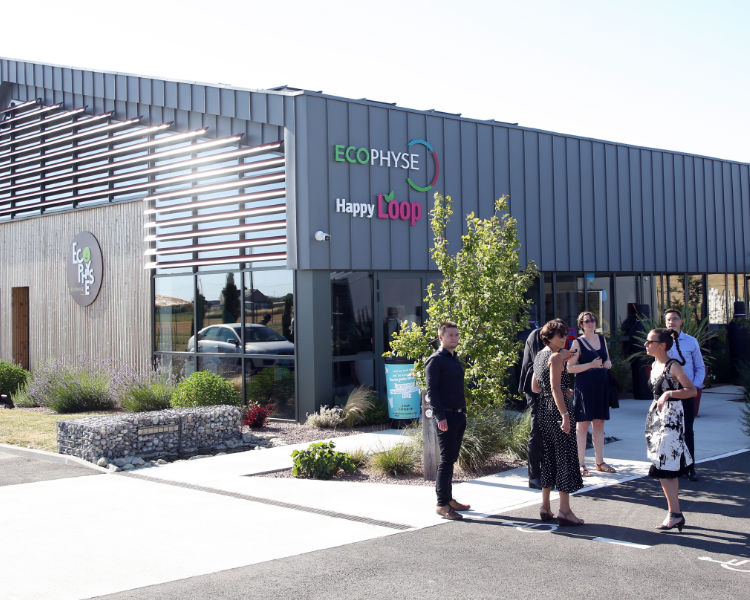 A 3-AXIS BUSINESS MANAGEMENT
It is the combination of economic performance with social and environmental performance.
It is a tool for transformation over time: the company defines its long-term strategy and translates it into annual objectives which are higher and higher every year.
Its approach is therefore transparent, enforceable and traceable. It announces its priority issues and proves over time that it does what it announced.
Including a mission in its statutes marks a strong commitment for Ecophyse:
The legislator provides a double assessment to guarantee the credibility of the mission-based company model, internally by the mission committee, a collegial body which has a role of strategic questioning, externally by the OTI (Independent Third Party Organization), which controls, sets deadlines and issues recommendations.
COMPANY STATUS WITH A MISSION, A CSR COMMITMENT
Being « société à mission » is only the beginning. It is the first step of our strategy. The long-term trajectory remains to be unrolled. ECOPHYSE wishes to continue in this approach, by committing, in 2023, to the Lucie label.
ECOPHYSE AND PATRONAGE
Every year, ECOPHYSE gets involved for a strong cause. In 2023, we have chosen to support the Maison des Femmes ("The Women's Place") in Tours. It is a care unity in the hospital of Tours which offers a confidential, secure reception for all the women victims of violence (physical, sexual, psychological, sexual mutilation)

WHAT OUR PARTNERS SAY ABOUT US
Available, loyalty
«Ecophyse is always available and the communication is great »
«When the market was tight, Ecophyse was always there»
Ingenuity
«Ecophyse always finds a solution for the materials available to them»
«Ecophyse is useful because they try to find solutions that are easy, practical to implement, fun »
Environnemental values
«Ecophyse has strong human and environmental values»
«Ecophyse takes care of the environment while some competitors are only there for business»
Quality of service
«Ecophyse is the independent market leader, with respect for the customer, the services and processes announced and perfect mastery of the business. »
« Ecophyse is transparent about the origin of the products, this is not always the case with its competitors. »
"We still find an agreement where every party win"s
Human resources
« Ecophyse is always moving forward. Human relationships make the difference. »
« They are serious people, who inspire confidence »
« People like Ecophyse, you don't meet them every day, especially in this environment. »